FreeRide Wakeboard Tower - Powder Coated Black
TOWERS SHIP FREE IN THE LOWER 48 STATES!
NOW THROUGH CYBER MONDAY! SPECIAL SAVES YOU $250 - $375!
Rates on Accessories Still Apply.
The FreeRide wakeboard tower is the result of intense research and development with the original goal of breaking the boundaries of average style and performance common in the aftermarket universal wake boat tower industry. More than just a high performing head-turner, the FreeRide has been a complete game changer. If you are searching for a unique, high-end look that has rock solid performance, this is the best wakeboard tower on the market. Plus, we have custom designed a full line tower speakers, racks and bimini that only fit on the FreeRide. Fully loaded as a tower package, it's hard to tell it apart from a factory OEM tower that costs thousands of dollars more.
All Aerial Wakeboarding products are expertly crafted using the best materials and components available, precisely constructed with hi-tech fabrication equipment and are beautifully engineered using the latest in 3D computer-aided software. The result is a full line of wakeboard towers and accessories that truly perform, can take a beating and dramatically transform any boat. Our innovative universal tower designs are adjustable to ensure a perfect fit.
Our original goal was to break through a sea of similar looking towers on the market to bring a completely high-end, high performance wake tower that looks like it was pulled straight off a very expensive new wake boat. Of course, like all our other products, the FreeRide is adjustable so it can fit almost any boat and is sold at a very reasonable price that's literally many thousands less than a custom fabricated or factory OEM model. It features a dramatic forward leaning stance, massive solid aluminum reinforcing buttresses supporting the frame, a twin H-top and quick-release knobs that make it easy to fold the tower down.
Just like all Aerial wakeboard towers, the FreeRide is a very straight-forward installation that can be done by you and a buddy in just a few hours. The adjustable width design and rotating mounting feet allows it to fit any boat with a beam width of 75-100 inches. When folded, the FreeRide wakeboard tower will clear a standard 6-foot-11-inch garage opening for storage. The FreeRide wakeboard tower also features a whole line of accessories that are only designed to the fit it making for a completely unique looking, head-turning tower package.
Do it Right the First Time with Aerial!
Make the right investment in your boat and your sport with an original Aerial Wakeboard Tower package. If quality, safety, performance, your boat's resale value and service are important to you, our brand should be at the top of your list. We proudly offer the best customer service in the industry. Our fully staffed sales and support teams are available Monday through Friday 9 am to 5 pm PST. We are always here to help you before your purchase, during the installation process and offer product support for the lifetime of original ownership. Also, we are the manufacturer and all our products are warrantied with no hassle, quick response and quick replacements when necessary.
Please take the time to review our customer boat gallery with over 3,000 submitted photos and hundreds of reviews. 95% of the time, we have at least one wakeboard tower model that is a great fit and style match for your specific boat. Review all our products, compare us to the competition(beware of the cheap copy cats and unauthorized dealers), and then give us a call at (843) 948-6915. or email us at sales@aerialwakeboarding.com. We offer valuable discounts on customized tower packages and work with you to keep you on budget.
CAN I PULL TUBES, INFLATABLE OR ANY TOWABLE FROM A WAKEBOARD TOWER?
You should never tow an inflated towable from a wakeboard tower. The amount of force could damage or break a wakeboard tower, lead to damage of your boat's fiberglass hull and possibly injure someone. Towing an inflated tube or towable is very different than towing a wakeboarder. There could be significantly more drag or anchoring force than a wakeboard tower was designed to handle.
In fact, even factory installed wakeboard towers found on the most expensive wake boats don't allow you to tow tubes. They all have warning labels that specifically state not to otherwise it will void your warranty. If an aftermarket wakeboard tower manufacturer claims their towers are strong enough to pull towables, we would still advise you not to.
We recommend you use a low transom mounted ski tow eye hook to tow tubes.
FREERIDE WAKEBOARD TOWER FEATURES & SPECIFICATIONS:
2.25" diameter tubing
Premium 6061-T6 aircraft grade aluminum
Deck mounts are 75 inches apart, front to back
Fits boats with 76-100" beam width
Universal swivel mounts for any deck
Easy folding design to minimize vertical clearance
All hardware included for installation, including 4 aluminum backing washers
U.S. Coast Guard certified 2-mile all-round LED white navigation light rated for 50,000+ hours of use
5 year warranty
Finish: Powder Coated Black
INSTALLATION GUIDE: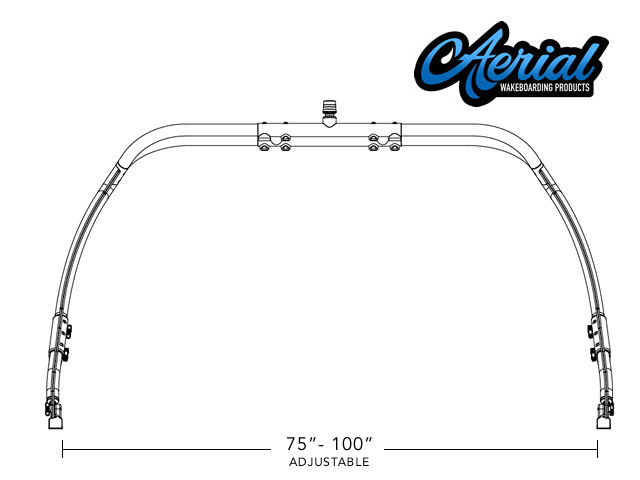 This is a very heavy, well designed and attractive tower. I installed it by myself on my 2022 Crownline 220SS. Assembly and install are very easy to follow. I ordered the backing plates, but only used the aft ones. My wall thickness was right at 7/16" thick. I would highly recommend this product
Our Aerial Wakeboarding tower looks like it was made with the boat. This boat and tower turns heads on the road, on the water... IT TURNS HEADS! Chrome is nice, but BLACK is the BOMB!
I can't tell you how impressed I am
I love the look of my boat but I can't tell you how impressed I am with the new look of the boat with the Aerial FreeRide tower installed. The tower was very easy to install. I would recommend Aerial wakeboarding towers to anyone. The customer service was excellent.
Aerial produces incredible products at affordable price.
Aerial produces incredible products at affordable price. I loved it that Aerial rewarded me with great discounts the more products that I bought. I bought the freeride tower with swivel racks and speakers. It turned my boat into show room quality. My friends think that I am driving around in a $60,000.00 boat and are jealous of my "new" boat.