Assault Wakeboard Tower - Powder Coated Black
TOWERS SHIP FREE IN THE LOWER 48 STATES!
NOW THROUGH CYBER MONDAY! SPECIAL SAVES YOU $250 - $375!
Rates on Accessories Still Apply.
The Assault Wakeboard Tower is hugely popular for its stand-out styling defined by the head-turning, aggressive look of the massive "side blades" that are precision CNC machined out of solid marine-grade aluminum. True to its image, the Assault is an incredibly strong and high-performing tower for any level of wakeboarder. For a more consistent factory look, the wake tower features swooping lower side rails that perfectly compliment boats with similarly arched windshields.
Unlike our other wakeboard tower models, the price of the Assault includes 2 racks. These racks are custom designed to only fit the Assault. Optional configurations are available at slightly different package prices including two dual wakeboard racks, two wakeboard/kneeboard racks or one wake/wake and one knee/wake. Our commitment to continually improving products has resulted in making our best-selling tower ever better by increasing stability, rigidity and overall load handling required for pulling wakeboarders.
Each Assault wakeboard tower is precision crafted using the best materials like resilient 2.25 inch diameter high tensile 6061 T6 aircraft aluminum tubing, are precisely shaped using expensive machining equipment manned by the best in the business, feature beautiful welds and easy to clean mirror finish resulting from hours of painstaking polishing. An optional high quality multi-layer black powder coated finish is available for no additional fee. Note that on the Assault, certain components have been left in the ultra polished, non-powder coated finish. This is a very popular look we created to enhance the overall look. Please refer to product photos or contact us for more details.
All wakeboard towers easily fold down to accommodate vertical clearance restrictions. All are backed by an awesome 5 year manufacturer warranty. All models including the Assault feature an adjustable universal fit that is compatible with almost any boat within a range of beam widths(Assault fits 76-108"). Installation is very easy for the average do-it-yourselfer and takes around 3-5 hours. Over 90% of our customers install the wakeboard tower themselves using a basic set of tools. Check out our support page for links to downloadable installation guides. Our professional support team is available by phone or email if additional assistance is required.
Aerial's innovative mounting feet swivel during the install to accommodate any hull's surface angle. They also feature a superior thick one bolt mounting system for easier installation, greater strength and better foot-to-hull weight distribution when torqued down. Some other wakeboard tower manufacturers use up to 4 thinner bolts per mounting foot(16 total) to secure the tower to the fiberglass hull. By drilling several holes in a small area, the fiberglass becomes weaker which can lead to spider cracking and even breakage from the repeated weight transfer exerted from the wakeboarder, to tower, to mounting feet. When mounted and tightened down, Aerial's circular feet evenly distribute the weight transfer across the contact surface and greatly reduce the stress on your boat's fiberglass hull.
Further committed to safety on the water, Aerial Wakeboarding has partnered with Attwood to produce a wakeboard tower tow-point navigation light that is certified by the U.S. Coast Guard. This compact, fully sealed white LED light is designed for pleasure craft up to 39.4 ft (12 meters) and draws only 1.8 watts at 12VDC - the lowest power draw of any 2 mile 360 degree light and is rated for 50,000+ hours of use with a 5 year warranty.
Whether you are a pro or just recreational rider, Aerial has a wake tower that is the right fit for you, your boat and your wallet. We only build what we would ride ourselves so you can trust our dedication to quality, performance and value. Aerial Wakeboard Towers and Accessories are a great investment for your boat, the sport you love and all the great times with friends and family. If you are looking for an affordable, super stylish, factory looking wakeboard tower that offers time-tested performance and reliability, the Assault should be at the top of your list!
Do it Right the First Time with Aerial!
Make the right investment in your boat and your sport with an original Aerial Wakeboard Tower package. If quality, safety, performance, your boat's resale value and service are important to you, our brand should be at the top of your list. We proudly offer the best customer service in the industry. Our fully staffed sales and support teams are available Monday through Friday 9 am to 5 pm PST. We are always here to help you before your purchase, during the installation process and offer product support for the lifetime of original ownership. Also, we are the manufacturer and all our products are warrantied with no hassle, quick response and quick replacements when necessary.
Please take the time to review our customer boat gallery with over 3,000 submitted photos and hundreds of reviews. 95% of the time, we have at least one wakeboard tower model that is a great fit and style match for your specific boat. Review all our products, compare us to the competition(beware of the cheap copy cats and unauthorized dealers), and then give us a call at (843) 948-6915. or email us at sales@aerialwakeboarding.com. We offer valuable discounts on customized tower packages and work with you to keep you on budget.
CAN I PULL TUBES, INFLATABLE OR ANY TOWABLE FROM A WAKEBOARD TOWER?
You should never tow an inflated towable from a wakeboard tower. The amount of force could damage or break a wakeboard tower, lead to damage of your boat's fiberglass hull and possibly injure someone. Towing an inflated tube or towable is very different than towing a wakeboarder. There could be significantly more drag or anchoring force than a wakeboard tower was designed to handle.
In fact, even factory installed wakeboard towers found on the most expensive wake boats don't allow you to tow tubes. They all have warning labels that specifically state not to otherwise it will void your warranty. If an aftermarket wakeboard tower manufacturer claims their towers are strong enough to pull towables, we would still advise you not to.
We recommend you use a low transom mounted ski tow eye hook to tow tubes.
ASSAULT WAKEBOARD TOWER FEATURES & SPECIFICATIONS:
2.25" diameter tubing
Premium 6061-T6 aircraft grade aluminum
Deck mounts are 75 inches apart, front to back
Fits boats with 76-108" beam width
Universal swivel mounts for any deck
Easy folding design to minimize vertical clearance
All hardware included for installation, including 4 aluminum backing washers
U.S. Coast Guard certified 2-mile all-round LED white navigation light rated for 50,000+ hours of use
5 year warranty
Finish: Powder Coated Black
INSTALLATION GUIDE: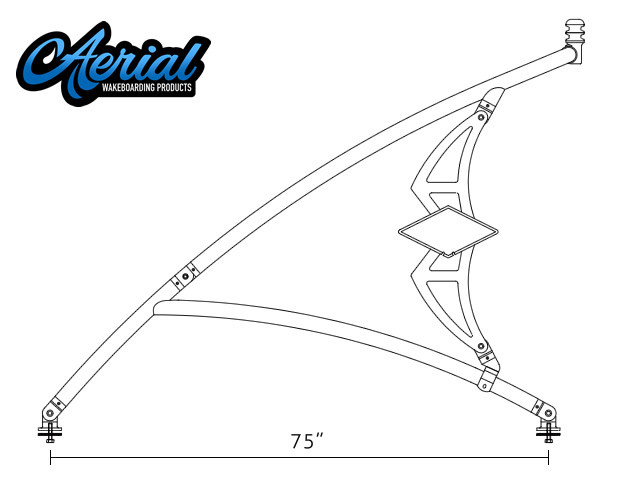 Towers look exceptional on boat yet they are priced reasonably.
I have the assault wakeboard tower with the wakeboard/kneeboard racks and absolutely love it! Looks great and like the fact that it is a tower that doesnt have much vertical flex. The racks are great for storing the boards. Overall I give Aerial Wakeboarding an A+++++
Looks great and easy to install
Looks great, installation took about 5 hours with my wife and 11 year old son helping me.
We love our new tower and accessories!
We love our new tower and accessories! We had a Skylon ski pole for years and considered upgrading to a new boat. Instead of spending $30000+ for a new boat, we added the tower, speakers, mirror, and ballasts for less than $5000! Easy to install, looks great, and no payments!!!! Our Supra dealership is trying to buy our boat for top dollar...NO WAY!