F250 Wakeboard Tower for Pontoon Boats
TOWERS SHIP FREE IN THE LOWER 48 STATES!
NOW THROUGH CYBER MONDAY! SPECIAL SAVES YOU $250 - $375!
Rates on Accessories Still Apply.
For pontoon owners, it's all about having the "do it all" boat to entertain family and friends for a day out on the lake. Unfortunately, the hugely popular sport of wakeboarding is not properly supported on pontoon boats which have low elevation tow points or ski tows. Wakeboarding behind a pontoon boat is now possible! Aerial's WakeWorks F250 Pontoon Wakeboard Tower is the first aftermarket solution- it provides the correct height tow point (dual tow point), it's simple to install, features an innovative foot design, is made of premium materials and is very affordable. The F250 features a universal design with an adjustable width for an easy fit on almost any pontoon boat made in the past 15 years.
Optional accessories are available for added convenience and entertainment. Add a couple of racks to save space and securely store your wake boards, knee boards, wake surfboards and/or skis. You can also mount a full range of speakers overhead so everyone on the boat and in the water can enjoy crisp a clear music with full tonal range- not the distorted, scratchy or flat sounds found with some brands. Our carefully selected waterproof marine certified speakers are a popular upgrade to really bump up any sound system. All our offered speaker pods are easy to install, feature "clean" wiring that is fed through the speaker clamp's pre-drilled hole (no more loose, sloppy, dangling wires) and have no external or exposed speaker terminals (no more corrosion issues from exposure). Plus, almost any aftermarket wake tower upgrade using the common 'C' clamp can be mounted on the 2.25" frame (top H section diameter is 2.5").
If space is limited when you store your pontoon boat, you will appreciate how easy it is to fold the F250 pontoon tower. Use a standard Allen wrench to remove a couple bolts and fold the tower in half in just minutes. The F250 also has 2 integrated pop-up cleats for convenience and, for added safety, a US Coast Guard approved 360 degree tow light (nav lights required in some states) with a low power draw LED. 5 year warranty included.
Do it Right the First Time with Aerial!
Make the right investment in your boat and your sport with an original Aerial Wakeboard Tower package. If quality, safety, performance, your boat's resale value and service are important to you, our brand should be at the top of your list. We proudly offer the best customer service in the industry. Our fully staffed sales and support teams are available Monday through Friday 9 am to 5 pm PST. We are always here to help you before your purchase, during the installation process and offer product support for the lifetime of original ownership. Also, we are the manufacturer and all our products are warrantied with no hassle, quick response and quick replacements when necessary.
Please take the time to review our customer boat gallery with over 3,000 submitted photos and hundreds of reviews. 95% of the time, we have at least one wakeboard tower model that is a great fit and style match for your specific boat. Review all our products, compare us to the competition(beware of the cheap copy cats and unauthorized dealers), and then give us a call at (843) 948-6915. or email us at sales@aerialwakeboarding.com. We offer valuable discounts on customized tower packages and work with you to keep you on budget.
CAN I PULL TUBES, INFLATABLE OR ANY TOWABLE FROM A WAKEBOARD TOWER?
You should never tow an inflated towable from a wakeboard tower. The amount of force could damage or break a wakeboard tower, lead to damage of your boat's fiberglass hull and possibly injure someone. Towing an inflated tube or towable is very different than towing a wakeboarder. There could be significantly more drag or anchoring force than a wakeboard tower was designed to handle.
In fact, even factory installed wakeboard towers found on the most expensive wake boats don't allow you to tow tubes. They all have warning labels that specifically state not to otherwise it will void your warranty. If an aftermarket wakeboard tower manufacturer claims their towers are strong enough to pull towables, we would still advise you not to.
We recommend you use a low transom mounted ski tow eye hook to tow tubes.
F250 PONTOON BOAT WAKEBOARD TOWER FEATURES & SPECIFICATIONS:
2.25" diameter tubing
Premium 6061-T6 aircraft grade aluminum
Adjustable design fits pontoon boats 96" to 102" wide
First aftermarket wakeboard tower for pontoon boats
Designed & manufactured by Aerial Wakeboarding
Exceptionally sturdy, strong and durable tower
Sporty & stylish design compliments any boat model
Much more affordable than a custom fabricated tower
Simple installation for the average do-it-yourselfer
Includes all required mounting hardware
Highly polished finish looks great & is easy to clean
Quality pre-fabricated & pre-welded construction
Proper height tow point needed for wakeboarding
Compatible with many wakeboard tower accessories
US Coast Guard approved 360 degree LED tow light
Unique foot design fits almost every pontoon boat
2 heavy duty pop-up cleats integrated in the frame
Tower quickly folds down to minimize vertical clearance
Assembles and installs without welding or boat modifications
2 1/4-inch diameter high grade polished aluminum (top H-section is 2 1/2-inch diameter)
5 year warranty
Finish: Polished Aluminum
INSTALLATION GUIDE: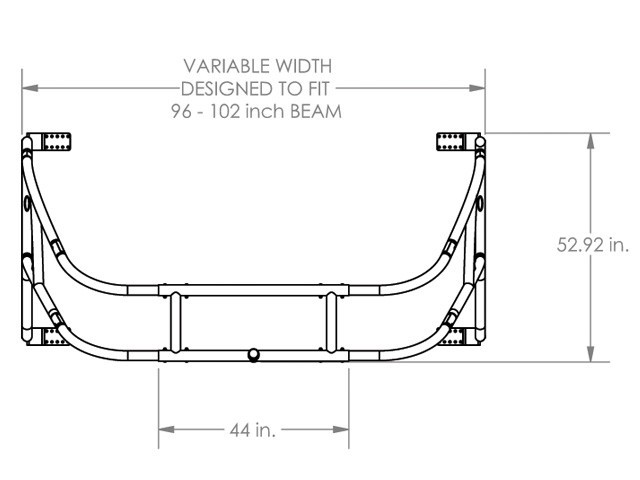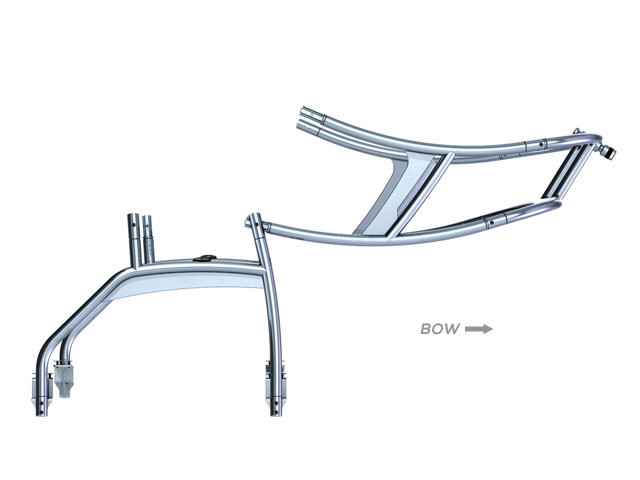 F250 pontoon wakeboard tower
excellent wakeboard tower. HUGE and well made. installed it no problem!
I put the F250 wakeboard tower on last summer. I was so extremely happy with the ease of pulling skiers. I also installed a new stereo system with wakeboard tower speakers. Everyone surrounded us at the Sandbars to party with us. This year I just ordered the binimi to attach to the tower. I will follow up with you guys on that next. I rate this tower 5 stars for the quality and price in addition to the ease of installation !!!!
Looks great real nice tower, the job came out great. Bimini needed to modified, ordered a few extra parts, looks great. Little bit of work but looks hot on my brand new boat.
This was a great investment for my 24' pontoon, I can't say enough good things about it. Your customer service department was very helpful as well.
Great product, easy to install, killer looks.
Great product, easy to install, killer looks.
As a dealer we always want to do something no one else has seen. Came up with the idea of putting a wakeboard tower on a pontoon that no one has seen in Minnesota. We are a week into our boat show and have a ton of people talking and asking where they can get one. I think it is one of the best pontoons around and with being able to still use the bimini top to its full function is a very nice addition.
It's a beautiful tower.
It's a beautiful tower. Looks awesome on my boat. I love sky Skiing behind it.
The speaker enclosures look great. And the F250 pontoon tower completed my boat