Aerial's Universal Ski Tow Bar for Pontoon Boats!
By popular demand from so many pontoon boat owners, we designed a superior ski tow bar that's a universal fit upgrade. This is an incredibly rugged, stylish and beautifully constructed bolt-on solution. For the majority of our customers, this is a simple DIY upgrade project that will take a few hours. Like Aerial's legendary wakeboard towers, our ski tow bar features the same 2.25" diameter 6061-T6 aircraft grade aluminum tubing on the main frame and 1.5" on the side supports. The mounting base is made of a solid 1/2" thick plate. We also gave it our classic ultra polished mirror finish, impeccable welds and a beefy tow point.
The ski tow bar is designed to fit most pontoon boats with a small footprint to fit on a range of swim platform sizes. It's shipped in one convenient bow as three separate mandrel bent and welded sections. Two lengths of mounting hardware are provided for either the inner or outer bolting locations depending on your installation needs. All you need to do is bolt on the top cross bar and them mount it to your swim platform. Done! It's a very simple and quick project you can finish in the morning before taking the boat out. Compared to a custom fabricated version or one available from your boat's manufacturer, ours is much more affordable without compromising quality. The ski tow bar comes with our 5 year manufacturer warranty in case of defects.
Please note that although the ski tow is designed for most water sports only, it is not to be used to pull towable inflatables or water tubes. Inflatables like these should always only be connected to your boat by a transom mounted ski tow eye hook or ring. There are many types of inflatables which create a range of higher to much higher drag that can exceed that of a wake boarder, knee boarder, skier, etc. This is especially true when an inflatable and riders are whipped around like a slingshot. If there are multiple riders, the device is under inflated or the water is choppy, it can cause problems. Also, the elevated height of a ski tow bar combined with the excess stresses could lead to structural failure of either the ski tow, swim deck or the boat.
Please review the ski tow bar mounting requirements diagram below. We recommend measuring your swim deck platform to ensure you have enough room before ordering. Also, be sure to measure your engine's clearance requirements at full tilt and trim.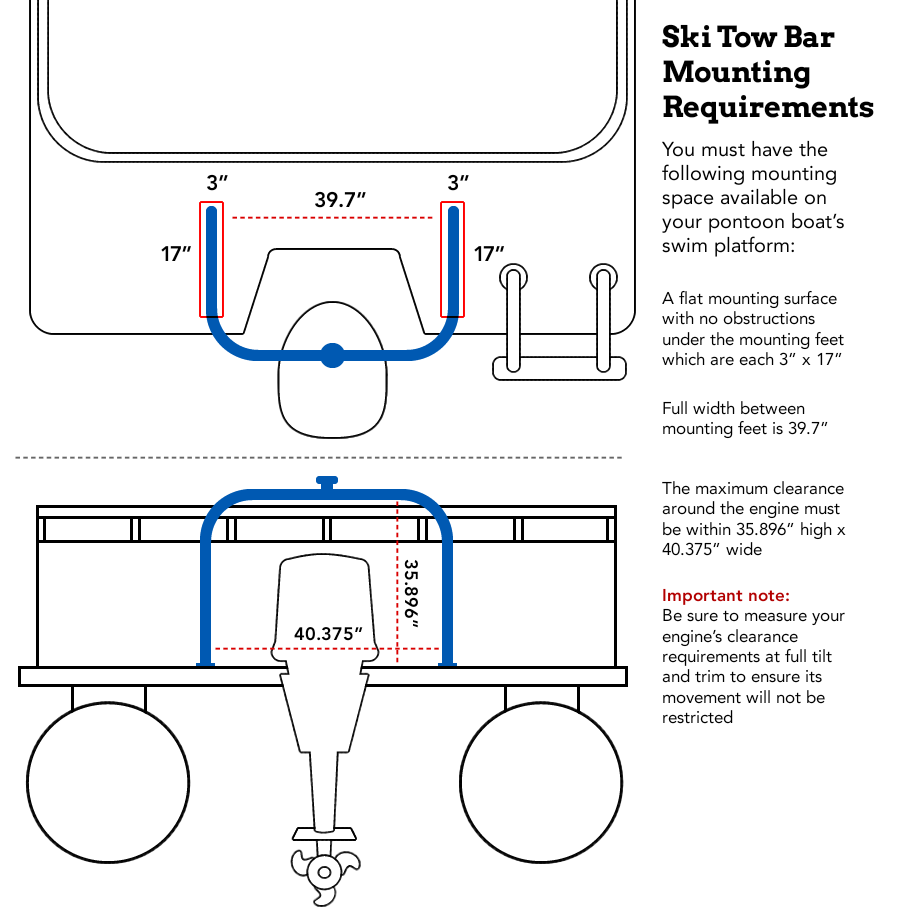 Installing on my 24' Bay Boat
Was impressed with the details provided online, shipped promptly, packaged well, quality was first rate.
Just what I was looking for!
Very happy- much better quality than I was expecting for this price. Literally no need to pay more somewhere else. Have my eye on a couple other Stryker products!
Great ski tow for my pontoon
Shipped fast and really impressed with the quality, size and the material. Very professional how it's made and polished. Took about 10 minutes to bolt together and an hour to mount. Matches my boat and makes it look great! A+++