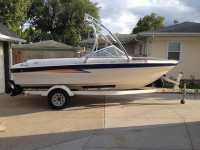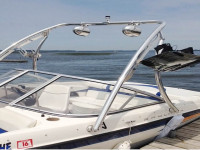 Our teenage son never wanted to go boating with us - until we added the tower! Almost all of our boating hours summer 2014 were spent pulling him on the wakeboard. We were surprised and very happy to find that raising and lowering the tower for storing the boat on the covered lift is quick and easy. This product was fairly simple to install with just a few simple tools. It only took about one and a half hours. The Aerial wake tower was a great addition to the boat and really made it look sharp, props to H20 Sports Warehouse for sending a free set of speakers with the tower! Over all this product is awesome and with the next boat we get if there is not already a tower on it we will be ordering another from H20.
Daron Klein from Fargo, North Dakota US
Show your boat!
Add your boat to the Aerial Wakeboarding customer gallery.