Back to Gallery
1996 Searay 210 Signature Series with Airborne Wakeboard Tower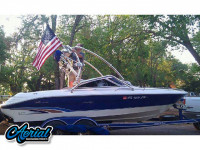 The wake tower is one of the best investments I have made for the boat. Adds a new element to wakeboarding. The construction fo the tower is great and the ease of install made it a great purchase.
Jesse Bierig from Cleo Springs, Oklahoma United States
Show your boat!
Add your boat to the Aerial Wakeboarding customer gallery.