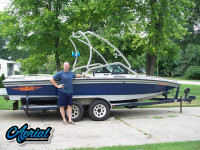 I am very happy with my purchases from Aerial. I was skeptical at first installing my own tower. However, the instructions were very well illustrated with photos and clear directions that it was pretty easy and I wouldn't hesitate to do it again.
Ryan Bethel from Muskegon, MI United States
Show your boat!
Add your boat to the Aerial Wakeboarding customer gallery.