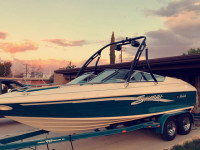 Can you say I'm a Baller? We're heading to Apache Lake this weekend, and the tower looks fantastic! It compliments the boat the lines, and looks sleek and smooth. The speakers will rock your boat and everybody's around you. It's a great product at a great price.
Debbie Perry from Tucson, AZ United States
Show your boat!
Add your boat to the Aerial Wakeboarding customer gallery.