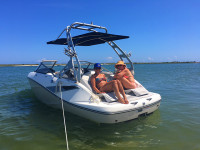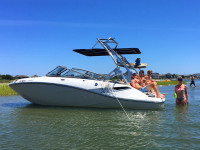 After purchasing our Sea-Doo Boat in 2011 our family became interested in learning how to WakeBoard and WakeSurf. Over the course of several months we searched for Wake Board towers that had to meet several key factors. A few of those elements were a sleek design with "over the top" style, best in class materials, fit, cost and most importantly long-term support. In the end there was only one clear winner, Aerial. We chose the FreeRide Tower with the Black Bimini top.
We've enjoyed countless hours Wakeboarding and WakeSurfing with our FreeRide. On a regular basis I am asked by other boaters what kind of tower it is and I am proud to say it's an Aerial.
Recently we experienced a small crack in one of the side beams which was a complete surprise to us. I was shocked and wondered how could this happen? Possibly stress after 6 years? I was saddened and wasn't sure what to do. I reached out to Aerial Support, explained the situation and shared pictures of the part. Within a week Keith at Aerial assured me that they were taking care of it. The following week I had a brand new replacement part at my front door.
Aerial is a company that truly understands the meaning of building "best in class", superior products, amazing customer service and stands behind their products 110%.
Thank you Aerial for providing years of enjoyment to our family. We look forward to many more excellent times on the water.
Sincerely,
Brian, Jill, Benton and Ethan from Raleigh, North Carolina
Brian Theissen from Raleigh, NC United States
Show your boat!
Add your boat to the Aerial Wakeboarding customer gallery.