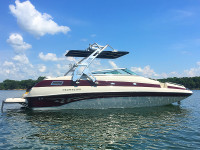 We love our Freeride Tower. We just added the Bimini and we love the way it looks. We are very satisfied with the speakers and sound quality. We get lots of compliments on our set up.
Brad Webb from Olathe, KS United States
Show your boat!
Add your boat to the Aerial Wakeboarding customer gallery.