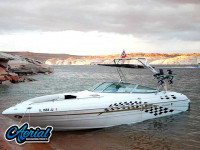 Love the look of this tower. Since the picture, we've added with swivel wake board mounts on both sides! We've also installed four of the Freeride speakers on the tower. We get a lot of compliments on this setup!
Brian Nelson from Durago, CO USA
Show your boat!
Add your boat to the Aerial Wakeboarding customer gallery.