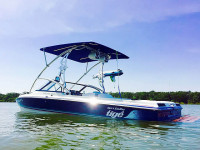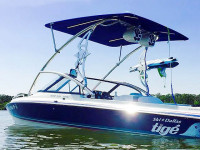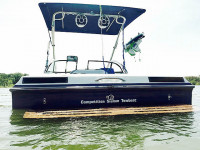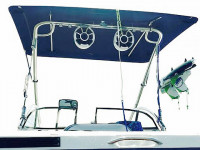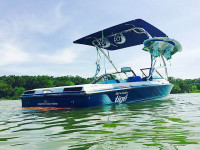 I added the Assault Tower & Eclipse Bimini to my 1994 Tige... the lake party will never be the same!!! It can be difficult to modify older boats, but Aerial makes it easy with high quality products and easy application!
Attached are a few pictures from [recent] wake surf run on Lake Arlington in Arlington, TX.
This is my first Summer with my Aerial tower and accessories and I love what it has added to my Tige!!
It gets hot as hell in Texas and with all of our lakes full from early summer rain, we are on the lake as much as possible. Eclipse Bimini in Texas is a MUST!
Thanks again for building a great product!
GOD BLESS TEXAS & BIG WAKES
Wesley Kammer from Dallas, TX United States
Show your boat!
Add your boat to the Aerial Wakeboarding customer gallery.